A History of Preston
in Hertfordshire





My greatx6 grandparents, Richard and the widow Eliza Homerstone, married at St Mary's, Hitchin on
20 January 1712/13. Richard had moved from the parish of Great Barford, Bedfordshire. Eliza(beth) (whose baptism I have been unable to find) had married John Homerstone (again, not found) and they had a son, John Homerstone. I have also been unable to discover John snr's burial.
There is a separate article about Richard and Elizabeth and their descendents at this link: Faireys from 1813. Richard snr, a labourer, was buried at St Mary's, Hitchin on 28 June 1742.
This page begins with an appraisal of John Homerstone's life.
John Homerstone/Hummerstone (1710 - ?)
John Homerstone was baptised at St Mary's, Hitchin on 25 February 1709/10.
All of the historical notes concerning to him - his marriage; the baptism of his children; Hitchin Surveyors' Disbursements and the Militia Lists (1758-59) - refer to him as a labourer.
John married Mary Tanson on 2 October 1737 at St Mary's Hitchin. The couple had two sons who were baptised at St Mary's. I can find no note of their marriage or burial - however William is shown as a servant at Hitchin in the Militia Lists of 1762-63.

John Homerston
bapt 25 Feb 1709/10
Mary Tanson
bapt 18 8 1726

William Homerstone
born 7 May 1745
Thomas Homerstone
born 3 Nov 1742



Richard Fairey, John's half-brother, appears occasionally in the Surveyors Disbursements for his toil on Hitchin's roads. John also appears - eight days in 1752 at a shilling a day; one day in 1754; two days, 1758; three, in 1759, two of which were holding 'the plow'; and three more in 1760, when again he held the plow. Sometimes these days coincided with Richard's work, sometimes they did not.
Mary Homerstone died and was buried at St Mary's on 16 November 1757.
John's research trail goes cold after 1760.
Richard's parents, William and Alice Fairey of Great Barford, Beds

Great Barford, Bedfordshire
Great Barford is a scattered parish of 2,843 acres (around 1,500 arable; 1,000, permanent grass).
It is low-lying - some 25 acres are covered by water and the River Ouse flows through the parish. The soil is gravel and grows wheat, barley and oats.
The parish is six miles east of Bedford and had a population of 635 in 1831. The parish registers since 1584 have been preserved. The church is All Saints (s

ee right)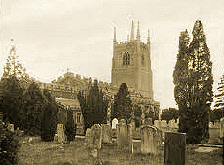 My greatx7 grandfather, William Fairey married twice - his first wife Lidia (sic) gave birth to their first son, John, on 18 November 1665. Eight entries and less than three months later, the parish register notes her burial on 12 February 1666.
Less than five months later, on 6 July 1666, William remarried - his new wife was Alice or Joan Cuttler. So, in eight months, William had fathered his first son, become a widower and taken a new wife. They were to have five children




The entries above illustrate the advantages and disadvantages of parish registers (PRs) and Bishops Transcripts (BTs) which were copies of parish registers that were sent to the Bishop. The first image (PR) shows William's wife as Lidia, though the date of her burial is illegible. The second image (BT) shows the date of Lidia's burial, but her name cannot be read. The third, (PR) shows William's new wife as Alice Cuttler while the fourth (BT) notes her as Joan Cuttler. Probably here, the parish record is correct - the transcript being just that, but erroneous.


















Lydia Fairey
bapt 27 March 1657
Sarah Fairey
bapt 22 July 1660
John Fairey
bapt 18 Nov 1665
William Fairey
bapt 12 May 1667
Thomas Fairey
bapt 1 Feb 1669
Mary Fairey
bapt 10 Dec 1672
Ann Fairey
bapt 6 Feb1675
bur'd 27 Oct 1682
Richard Fairey
bapt 7 June 1676
The marriage of William and Lydia is noted neither in the IGI, nor in the Great Barford registers. William's baptism is similarly missing. Until I found the burial of Lydia, I pondered the possibility that William was baptised on 21 June 1640 at Sandy - a parish that is only three miles from Great Barford. However, this is unlikely as he would have been around seventeen years old when Lydia was born - but not impossible as the minimum age of marriage for males was fourteen in those times.
To infer a connection between the two Williams because of the proximity of the two parishes is tantalising until one realises there were Faireys in several local parishes in the seventeenth century - some, like Blunham and Roxton, are even nearer than Sandy.
In the absence of any further solid information, this seems to be the end of my Fairey line - until another discovery kick-starts more research.
Before posting this article, I checked the records of Great Barford, looking for more details of my family. I was looking particularly for Fairey burials, but found none for William or Alice. Probably they moved from the village. If ever their burials are discovered, it may be a clue to their origins. I did find a Henry Fairey who was buried on 15 August 1714, but I was taken aback by a burial of a Richard Fairey, labourer, on 9 January 1704/5!
If this is the Richard who was baptised in 1676, then clearly all the information above is totally irrelevant. On the other hand, the newly-discovered Richard may be a relation.
As with all research of my family tree, this section is 'Work in Progress'.


(Above) The record of the baptism of my ancestor, Richard Fairey. There is a gap of some years in the parish registers at this time. The only surviving note is in the Bishops'Transcripts
The Faireys
of Great Barford, Beds



Humphrey Fairey
bapt 7 Aug 1678
bur'd 1 Oct 1678