A History of Preston
in Hertfordshire

This is an article about my ancestors and so will be of little interest to many, except that it illustrates how a labouring family meandered around the Hertfordshire countryside before settling in Preston for around a century.
The story begins in the early seventeenth century and ends with my great grandparents, Charles and Elizabeth (nee Breed) Wray who lived at Hill End and Austage End
Charles and Mary (nee Bray) Gateward - my greatx5 grandparents.

Charles Gatward from Offley, married Mary Bray from Ashwell at St Mary's, Hitchin (right) on 30 September 1722.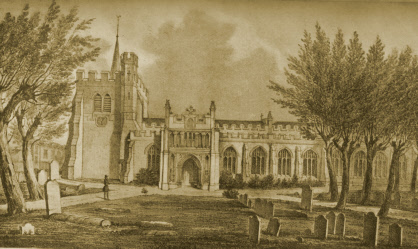 Why did they chose St Mary's for their wedding? Offley is four miles south-west of Hitchin and Ashwell, seven miles north-east. Perhaps they married in St Mary's as it was mid-way between the two parishes.
Charles was described as a labourer. The couple resided in Offley and had three children including my ancestor, Ann Gateward. Mary and Charles died in Offley in 1757 and 1769, respectively. Charles remained a labourer.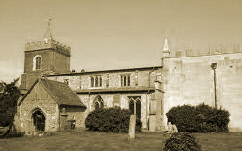 The parish of Offley is made up of two villages, Great and Little Offley, that lie on the Chiltern Hills three miles
north-west of Preston.
It comprised 5,500 acres of which 3,400 was chalk plough-land and 1,100 was grass.
The population of Offley was 967 in 1831. Its church was
St Mary Magdalene (left).
One of the tedious aspects of researching family history is peering at parish registers. However, this time the tedium was relieved by the comments of Thomas Ringer, the vicar of Offley. Of the baptism of Mary Wheeler
in 1736, he commented that it 'was not registered in the proper place through slip of memory'. When Patience Harding was baptised, her father was noted as Peter - but Ringer added 'or as the common fame goes by
some other man whose name is concealed from us'. With an incredulous air, he baptised Robert, the son of Elizabeth who 'says she is married to Robert Todd of Hexton in Middlesex, flax dresser'. Unsurprisingly, this marriage is not recorded in the International Genealogy Index.
The Barker family of Kings Walden
Meanwhile the Barker family were living at Kings Walden. John Barker, born in 1736/37, was my greatx4 grandfather and appears together with his sons, John and William in the Militia Lists as labourers. When John
snr died, aged 82, he was living at Kinsel End, Kings Walden.
John's grand-daughters, Elizabeth and Isabella Barker (who were cousins) married the Breed brothers, William and Samuel.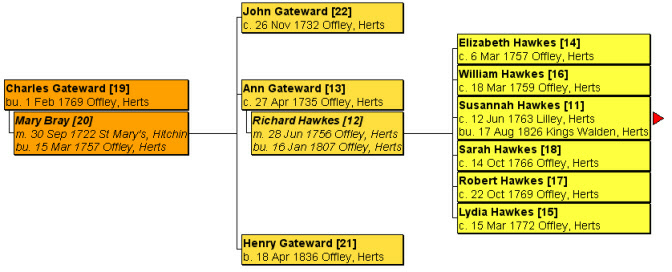 The earliest records of my Breed family are to be found in the parish register of the small village of Sundon in Bedfordshire. It was located four miles west of Offley and 3 ½ miles north-west of Luton.
In 1831, Sundon had just 387 inhabitants - it was smaller than Preston.
Thomas and Mary Breed were my 3xgreat grandparents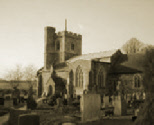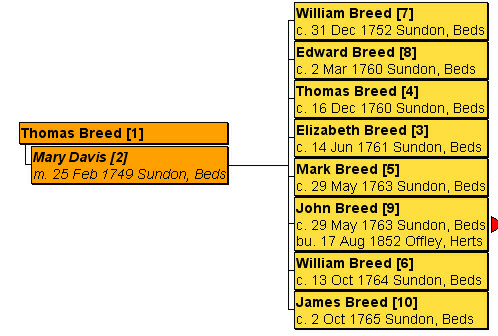 John Breed (bapt 1763) married Susannah Hawkes at Offley and the couple settled in the village and produced nine children. Although Susannah was buried in Kings Walden, John, a labourer was back in Offley in 1851,
living with his grand-daughter. He was aged 89 when he died there.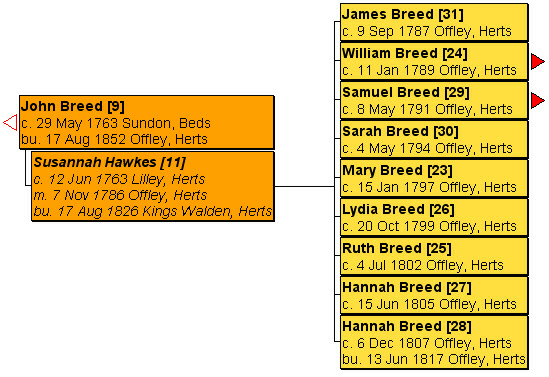 William and Elizabeth (nee Barker) Breed - my greatx2 grandparents
William married Elizabeth on 8 June 1813 at Kings Walden and the couple settled in the village. William was an illiterate labourer, marking the certificate when he married. When their first child, Catharine Breed was born,
they were living at Kinsel End, Kings Walden where Elizabeth's grandfather, John Barker, was living at the time of his death in 1819.
Although William and Elizabeth returned to Offley to baptise several of their children, they continued to live at Kings Walden. In 1841 and 1851, they were living at Ley Green.
Two of their daughters, Catharine and Docey had children out of wedlock.
My line continues through their daughter Elizabeth who married Charles Wray in 1852. Yet despite all the evidence in the parish records and censuses to the contrary, when she married Elizabeth stated that her father was Samuel Breed. Perhaps this shows some antipathy towards her father, William.
Samuel and Isabella (nee Barker) Breed
Samuel, another illiterate labourer, and Isabella followed the pattern set by William and Elizabeth - marrying at Kings Walden, living there and returning to Offley for the baptism of their children.
After Samuel's death in 1861, Isabella lived with her family and was with her daughter, Catharine and Joseph Burton in 1871, although living on parish relief.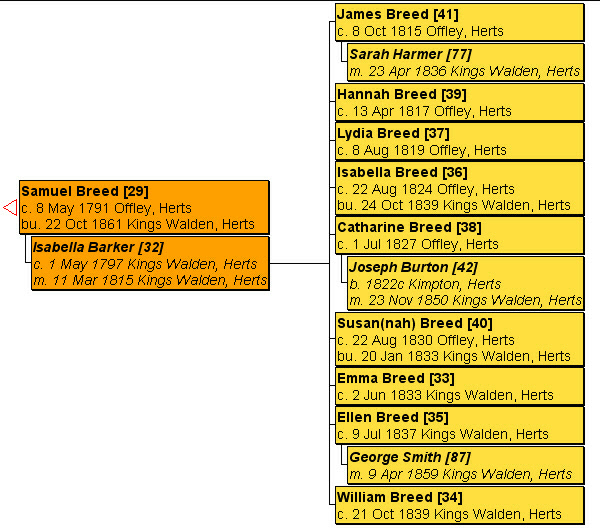 My great grandmother Elizabeth Wray (nee Breed) had a brother, Richard. He married Louisa Plummer at
Hemel Hempstead in 1856. They had a son, George Breed who was born at Ippollitts in 1876 and who married Alice Dear in 1899.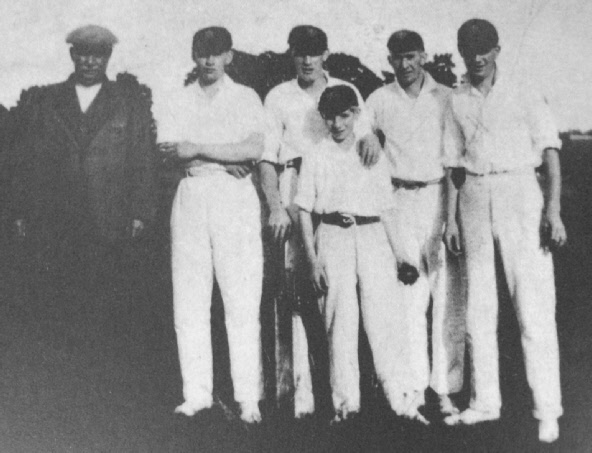 Charles Wray and Elizabeth Breed - my great grandparents.
Charles and Elizabeth married at St Mary's, Hitchin on 8 December 1849. Link: Charles Wray
In 1858, my grandfather, Alfred Wray, was born in the village of Charlton around two miles north of Preston. Perhaps an explanation for this is that his mother, Elizabeth, had a brother, James Breed, who was living at
Dog Kennels Farm House, Charlton in 1871. He married twice and his second wife gave birth to their first child, Emma in the same year, 1858, as Elizabeth.
Link to Breed family tree
George and Alice were living at Water Dell, Ippollitts in 1901. They had several sons who enjoyed cricket and
the picture below that was probably taken in the 1930s is of George Breed with Len, Herbert, Wally, Charlie
(born between 1903 and 1910) and 'Tich'. Maybe the legendary 'Wray' cricketing prowess was the result of
in-BREEDing.