A History of Preston
in Hertfordshire

Over a period of time several snippets on related subjects are collected.
This article publishes several such strands about my Currell family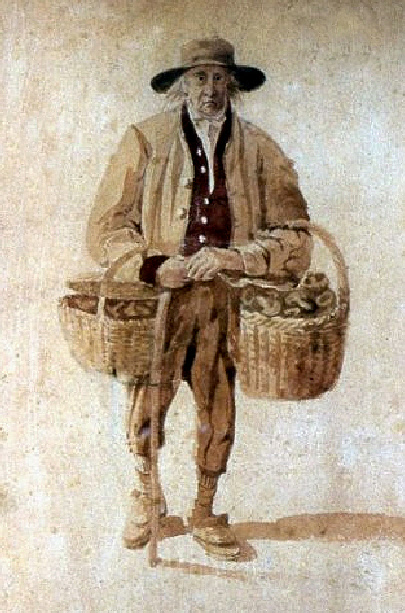 Thomas was baptised at St Mary's, Hitchin on 20 September 1747 and married Mary Beaumont there on
14 May 1772. He was buried at Norton, Herts on 5 February 1829. (Link: Currells of Norton family tree) This picture of him was painted shortly before his death.
Earlier notes about Thomas: In Militia List 1768-69 at Norton. A Thomas Currell was at Hitchin 1771, and Kings Walden 1775. Thomas at Norton in 1786 with 5 children. Was Thomas, James' father (who said he was born at Preston on C51).
Thomas was at Hitchin parish in 1771. Also, James was living very close to Shadrach, Alice and George Currell in C41. After writing this, Herts Removal Orders were checked and behold! Thomas was removed from Hitchin to Norton 17 1 1776 with wife Mary, and sons James (2) and Shadrack (6 mo) These questions should be asked: why did Thomas go to Hitchin, where was his wife living and were any of his relations there at the time? Is there any connection to Robert Currell (x1762 Graveley) who was my ancestor?
On the back of the painting is this poem about Thomas:
It is as true as I am here
I knew a man of Hertfordshire
And he lived at Norton town
An aged man of some renown

And his name was Thos. Currell
He often went to pick a merrell (morel)
If he did not find it soon
The next thing was a mushroom

Then upon his old legs
He looked about for lapwing's eggs
If he couldn't find them to his wish
He grope the River for crawfish

As in the holes he chance to feel
Sometimes he'd happen on an eel
He search the River round about
Till he found the water cresses out



At the start of the twentieth century there were eight Currells living in Preston:
CURRELL Mary Widow 59 bn 1842 Straw P Herts Preston
CURRELL Henry 33 bn 1868 Roadman Herts St Ippollitts.
CURRELL Phyllis 26 bn 1875 Straw P Herts St Ippollitts.
CURRELL Frank 20 bn 1881 Ag Lab Herts Preston
CURRELL Frederick 16 bn 1885 Ag Lab Herts Preston
CURRELL William 7 bn 1894 Brighton
CURRELL Arthur 5 bn 1896 Herts Preston
CURRELL George 1 bn 1900 Herts Preston
Mary Currell was my great grandmother (link: Mary Currell). Henry, Phyllis and Frank were three of her children. Frederick, Arthur and George were three of Phyllis Currelll's children. William Currell was Mary's daughter, Lizzie' Currell's, son.
Of these, Mary Currell lived in the village until her death in 1924. Phyllis married Herbert Jenkins and the couple worked Castle Farm at Preston until their deaths in 1966 and 1959 respectively. Lizzie married Herbert's
brother, Ernest Jenkins and the couple lived in Preston until their deaths in 1959 and 1941. George Currell married Susan Lyon in 1932 after living at Castle Farm until around 1930. Frank Currell remained single and worked at Castle Farm until he died there on 18 March 1949. He was living at 17 Chequers Lane and left an estate of £374..
The main representatives of the Currells at Preston during the twentieth century were Arthur Currell and his children. It is his family which is now featured.
Arthur Currell (1895 - 1958) was a labourer living at Hitchwood Cottage when he married Annie Payne in 1920. The couple lived for most, if not all of their married life at 4 Holly Cottages, Back Lane, Preston (Link: Holly Cottages). In 1954, Arthur was described as a builder's labourer.
Annie Currell is noted as 'a vice president of the Preston Cricket Club, assisting Mr and Mrs Massey with the organising of the Christmas Draws etc'.
Arthur was buried at St Martin's, Preston on 9 July 1958 (aged 62) and Annie on 16 March 1983 (89).

Arthur's son, Alec Currell ('lovely man'), married Sylvia Woodcock (nee White) and they lived at 11 Chequers Lane, Preston (Link: Chequers Lane) until the late 1980s when he was working as a production supervisor. Earlier, Alec had been a foreman for Fred Maybrick at Preston Hill Farm and was a rubber moulder in 1962.
Alec played for Preston Cricket Club and was acknowledged as a 'fine swing bowler of the late forties/fifties era'. Sylvia and her twin sons, Ian and Robert are pictured below.
Margery Currell married Derek Folbigg, a sheet metal worker from Stevenage. Her attachment to Preston is shown as she was buried at St Martin's on 22 February 2004.
William (a quality control engineer in 1951) and Patricia (nee Currell) Reid lived at 23 Chequers Lane, Preston (one of the Swedish Houses) probably from their marriage until the late 1980s.
One of their sons, Donald Reid (right), played for Preston Cricket Club in the 1970s. Of him it was written, 'His tremendous promise never achieved anything like its full potential'.

Thomas Currell (1747 - 1829)

Currells at Preston in the twentieth century

Thomas Currell (1866 - 1949)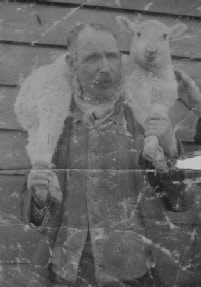 Thomas (shown right) is my second cousin, twice removed being the great grandson of Robert Currell. (Link: Robert Currell)
He married Annie Bates at Hitchin in the summer of 1885.
The following year, Thomas and a pregnant Annie walked to Wales seeking work but, in 1891, they were back in Hertfordshire and living at 17 Sunnyside, Hitchin and Thomas was a labourer.
Ten years later, they were at 12 St John's Lane, Hitchin and Thomas was a brickburner. The couple had four children
In 1911, Thomas (now a shepherd) and family were at
5 Frampton Road, Hounslow Heath, London. When he died in early 1949, he was living in the Wandsworth area of London.

The family of Brian George Currell (born 1934),
greatx3 grandson of George Currell (bapt 1784, Norton, Herts)
II am grateful to Brian Currell for sending me his family tree which can be viewed here: Link: Brian Currell bn 1934
He is descended from a branch of the Currells who lived in Hertford for much of the nineteenth century.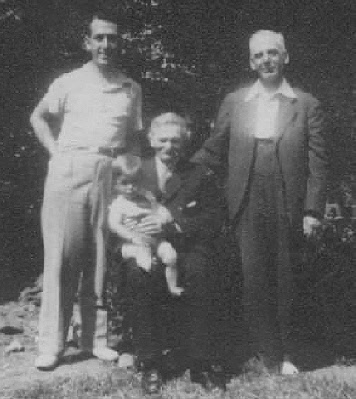 (Above) Four generations of Currells: standing: Robert Henry Currell (1907 - 1992) (left) and Henry Robert Currell (born 1880); seated, George Currell (1852 - 1936) with Brian Currell on his lap.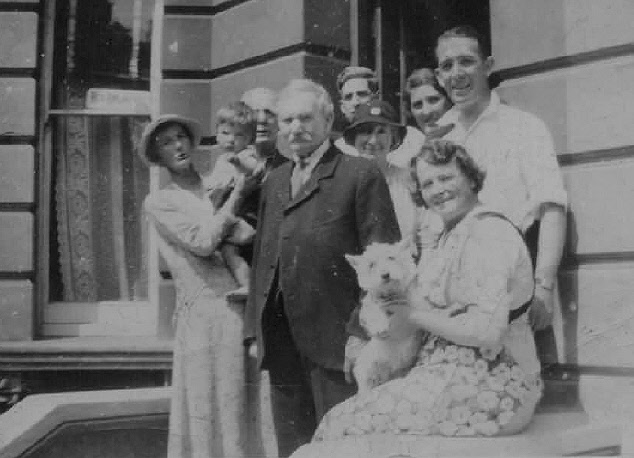 Above: a family portrait taken on the steps of The Fernery, a boarding house at Margate which was owned by Lucy Currell. Standing, far left Jessica Rule (mother of Hilda Currell (1909 - 1992) holding Brian Currell. Behind Brian is Henry Currell (born 1880). Standing in the middle, George Currell (1852 - 1936). Lucy Currell (born 1888) is probably the lady witht he dog. Immediately behind her are Robert (1917 - 1985)and Hilda Currell (nee Rule).

Thomas William Currell (1855 - 1887)
grandson of James Currell (born Preston, 1773c):
hung for murder
Firstly a little background information about Thomas William Currell's ancestors. There is evidence that many of the Currells who lived around Hitchin descended from William and Frances Currell who died at Willian, Herts around the middle of the eighteenth century. (Link: Currell family history) I am their greatx5 grandson.
Another branch from William and Frances settled at Norton in the nineteenth century. They very probably included William and France's son, William junior, who married Sarah Race. (Link: Currells at Norton)
One of their sons was Thomas Currell whose portrait is at the start of the page. He married Mary Beaumont and produceds James Currell who was born at Preston in around 1773.
Thomas William Currell, who was hung for murder in 1887, was the grandson of James Currell and the great grandson of the pictured Thomas Currell. He was also my fourth cousin, twice removed.
James Currell (born Preston 1773c) married Elizabeth and one of their sons was James Currell jnr who was baptised at Norton, Herts on 2 June 1816. He married Hannah Wilshire at Norton on 12 November 1842. They had a son also named James who was born in 1843. Hannah then died in the summer of 1844.
James moved to London and married the deaf Amelia Nash at St John the Baptist, Hoxton 7 June 1851

James and Amelia had two sons, the second of whom, Thomas William Currell, was born in late 1855 at Shoreditch, Hoxton. James was still working as a drug grinder.
When he was fifteen, Thomas William was found guilty of stealing a cheque for £61 2s 8d from the London Tramways Company and was sentenced to nine months imprisonment.
In 1881, he was still living with his parents at 50 Great Chart Street, Hoxton and he was employed as an upholsterer's clerk. In the 1880s, he also enlisted for a time with the Royal Middlesex Fusiliers, serving as a corporal. In 1887 he was working as a sponge trimmer and was evidently suffering from tuberculosis.
Thomas had been courting Lydia Green for about ten years - an unusually long time in those days. But Lydia, a respectable girl now aged thirty-one, had finally begun to tire of Thomas (who was described as a 'shiftless idle loafer') and had attempted to finish their relationship.
On Saturday 5 February 1887, Lydia had visited Thomas' parents and returned to the room which she shared with her sister, Amy which was below the room her mother rented in the same house at 8 Baches Street, Shoreditch. Thomas spoke to another lodger in the house, learnt that Amy was out and borrowed a key to the house. At 7.30 pm, Lydia's mother heard three loud noises and on rushing to her daughter's room, found her lying on the floor. She had been shot. Identical bullets were found at Thomas' lodgings at Fanshaw Street, Shoreditch.
Immediately, the police searched for Thomas who was well known to them. He made no effort to leave the area and was so frequently sighted that the police, accompanied by men who could recognise Thomas, scoured every local thoroughfare in an attempt to track him down. Eventually, after collecting Lydia's unpaid wages and stealing and pawning an overcoat, Thomas wrote a letter to the police saying they could arrest him at St Mary's Islington the following day, 16 February. He was recognised and arrested on his way to the rendezvous. He had been starved into giving himself up.
The circumstantial case against Thomas was strong, though he initially claimed that Lydia had shot herself by mistake. However, the press seemed more taken with Thomas' demeanour. His attitude led one reporter to comment that he was typical of people who were 'destitute of moral imagination and would take a life for a temporary advantage or to escape some trivial embarrassment'.
The reporter added a description of Thomas - 'short of stature, slight in build. A slight tawny moustache and close-cut whiskers extending half-way down the sides of his face'. He was calm and self possessed and replied in a low, firm voice.
After being found guilty of Lydia's murder, Thomas confessed the crime to a minister on 14 April. He blamed his actions on taking large doses of chloral and laudenum and said he was so stupified that he couldn't recall what had happened.
Thomas was executed on 19 April 1887. There was a lengthy description of his hanging in the newspapers.
The full transcript of his trial at the Old Bailey can be read at this link: Thomas William Currell at the Old Bailey





Two Currell sisters join the Australian Gold Rush in 1853
Elizabeth and Charlotte Currell were the daughters of George Currell and grand-daughters of James Currell (born Preston 1773c). They married James Newland and Joseph Wilshere respectively. In 1852, they and their families sailed to Australia.
The Australian Gold Rush began in the early 1850s and was widely and frequently reported in Hertfordshire newspapers. The imagination of young, poor, labouring families would have been fired by descriptions of the wealth to be made and the mountain of gold being brought back to England. In 1852, for example, six ships arrived from Victoria with 8 tonnes of gold on board. It was the talk of London and other towns and thousands booked their passage to Australia as a result to make their fortunes.
The two families sailed from London on the Dutch ship, Zes Gezusters (aka Six Sisters, 657 tons), on
28 August 1852. They arrived at Geelong, Victoria on 13 January 1853.
James and Elizabeth Newland eventually settled at an inn en route to the Ballarat goldfield.
James died and was buried at Geelong on 10 May 1877 and Elizabeth at North Geelong on 23 January 1898. The couple had seven children:
Clara Anne NEWLAND bap. 19 May 1850 Norton, Herts
Kate Elizabeth NEWLAND bap. 19 Oct 1851 Norton, Herts
George James NEWLAND norn 1854 Victoria, Australia
Martha Jane NEWLAND born 1855 Geelong, Victoria
Samuel George NEWLAND born 1857 Connewarre, Victoria
William Anthony NEWLAND born 1859 Coonewarre
James Edward NEWLAND born 1862 Connewarre