A History of Preston
in Hertfordshire
Location, location, location!
1851 1861 1871 1881 1891 1901
Plaiting might be branded as an abuse of child labour but for many years 'the Plait' was probably the difference between poverty and a tolerable standard of living for many households.
The decline in straw plaiting due to the importing of cheaper straw is vividly shown by the number of plaiters in Preston. From 97 in 1851, fifty years later there were only 13 plaiters (including my financially impoverished great grandmother, Mary Currell). The straw that broke the camel's back was the Education Act of 1870 which ordered the compulsory school attendance of children.
There were other social spin-offs. The independence of women had become an issue and even attitudes towards illegitimacy were affected as women were able to support themselves. Why depend on an unloved man earning a relatively low income? The situation of my great grandmother may illustrate this: although undeniably poor, in 1881 she was the head of a household of seven which was supported by three female straw plaiters. Her husband had 'gone' and there were three children in the home.
When areas of England were embroiled in discontent at low rural wages (such as the Swing Riots in southern England of the 1830s), Hertfordshire was relatively peaceful. John Izzard Pryor (who lived at nearby Baldock and who was an ancestor of the Pryors who lived at Preston) wrote a diary at this time. He commented on a 'state of dismay and terror' in December 1830 when several farms had been 'set fire to by wicked incendiaries very near'. He added that, 'Fires continue to be seen in the distance most night'. However, in Hertfordshire only one serious case was dealt with arising from the Farm Labourers' Revolt. (John Pryor himself was a member of the Grand Jury which heard the case). The lid was kept on the boiling pot of rebellion in Hertfordshire - thanks in part to 'the Plait'.
The children learnt how to hold a bunch of splint straw under their left arm. A couple of stalks were passed through their lips to moisten them and then they were worked forward using the tongue to start weaving them together. There were patterns of varying complexity - plain, single splint, pearl, bird's eye, and whipcord.
These 'schools' were really workshops employing child labour from the age of five. They were later controlled by the Workshops Regulation Act of 1867 which stated that children under eight could not be employed in a plait school; that children of under 13 should not work in them for more than 6 ½ hours a day and that they should be properly educated for 10 hours a week. But illegal work continued; if an inspector was spotted in a village (and they would stand out like the biblical tares in a field of wheat), the children could be smuggled through a back door.
In 1843, these comments were made by a woman who had attended a plaiting school: 'Been at the trade all my life. Children commence learning about seven years old. Parents pay 3d a week for each child and for this they are taught the trade and how to read. The mistress employs 15-20 at work in a room. The parents get the profits of the child's labour. A good worker will earn about 2s a week. I have four children at work and consider it as healthy as any other...more so than picking stones and working in the fields'
Another wrote in 1864, 'I go to Scott's plait school three times a day; 8-2; 1-4 pm and 5-8 pm. Mother sets me five yards to do in each school - one at dinner and one at tea time. If I am a good girl and do five she does not hit me but the mistress does sometimes.' (See: Plait girl poem)
Plaiting is a difficult skill to master. Plaiting schools for nimble fingered youngsters were set up in most Hertfordshire villages. At Preston, the 1861 census notes a plaiting school between Poynders End and Kiln Wood House to the west of the village. A sketch map of the hamlet dated about 1884 shows two more centrally located plaiting schools around Preston Green which were run by Mrs Stratton and Mrs Peters.
Why did Hertfordshire become a centre of straw plaiting? Firstly, it specialised in arable farming and produced excellent quality straw. In 1850, a superior variety of wheat called 'Red Lammas' was introduced from Cambridgeshire.
The other factor was the availability of manure. It was accepted good husbandry to plough straw into the fields to maintain their fertility. This was considered to be so important that landowners stipulated that their tenant farmers could not sell off their straw. However, manure was an alternative fertiliser and there was a constant supply of this from thousands of stables in London to Hertfordshire which was only twenty or so miles away. It was laid down that a ton of straw could be sold to the plaiters for every two cart loads of muck brought in by farmers (immortalised by the song 'Dung Cart' which my father insisted on singing in polite company).
The huge demand for straw plait was fuelled by the fashion change from the cotton mob hats of the eighteenth century to the straw bonnets of the 1800s. Even when the English straw plaiting industry had been eroded by cheaper imports from France and the Orient, the straw boater was still essential summer wear. Watch the grainy film of the announcement of the end of The Great War in 1919, and wonder at the number of straw hats being launched into the air like so many frisbies.
Straw plaiting was a cottage industry. Wheat straw was interwoven into intricate patterns - rather as hair might be braided. The finished product was a length of twenty yards called 'a score'. It was put onto a board to straighten it - a flat plait? The rough ends were clipped and the plait was measured, perhaps by notches cut into the wooden mantle of a fireplace.
The plaiters (who were mainly women) then made the three mile trek from Preston to Hitchin market to sell their work. Or perhaps it was bought by one of a network of travelling plait dealers such as John Day and Edward Willmott (of Sootfield Green) who lived in Preston in 1841. In turn, the dealers sold the plait to the factories in Luton where it was formed or 'blocked' into hats. Luton was known as 'Strawopolis' and later its football team were called 'The Hatters'.
Sources: "Labouring Life in the Victorian Countryside" - Pamela Horn; Censuses 1841-1901; Women's Institute History of Preston 1953; Hertfordshire Mercury - by kind permission of the Hertfordshire Mercury. Photo courtesy of Hitchin Museum. Hitchin parish records; Sketch map of Preston 1884 from W.I Scrapbook 1953. Extracts re John Izzard Pryor from "A Chronicle of Small Beer" by Gerald Curtis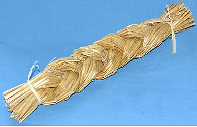 A Hertfordshire plaiter born 1770c
Hitchin plait market circa 1890
THE NEW PLAIT MARKET
This institution which is situate in Bank Street, Hitchin and was opened on the 5th of August last is already doing flourishing business......The primary object is to enable poor plaiters to dispose of their plait at a fair market price and to receive cash payment without delay instead of by the usual mode of changing the plait for goods at the shops of the general dealers or of selling it in the market on Tuesdays and having to wait until mid-day before the money for it can be obtained and then only at the public house where the buyer makes his stay......the number of sellers.....has risen from 50 in the first week to upwards of 400 in the week just ended.... On entering (the room) we found the seat which runs round part of the clean, comfortable room, occupied by old and young women who were resting after their journeys from the villages where they lived until their turn came to be waited on. Across the room a counter is placed and in front of it are compartments behind each of which stands a buyer or person who is skilled in the quality and value of plait. Each seller in turn takes her stand at one of the compartments and then in a few words the bargain is made........There is a double advantage in the manner in which the plait market is carried on. Not only is the best current price given to the seller but the buyer is able by his knowledge of the requirements of the trade to advise those who come which is the best sort of plait for them to make.....the comforts and advantages (of the new institution will be more and more felt as the winter comes on....(Oct 1874)
....Hertfordshire, in 1861, employed in the straw trade (plaiter, sewers etc.) 11,222.....The straw trade became centered in Herts and Beds from the peculiar finess of it's wheat straw....... one hundred weight of straw is worth 3 shillings. This...is capable of producing about 40 pounds of plaiting straws worth between 8s -18s according to the season or quality. This amount of straw....produces 17-18 pounds of plait worth £7 - 20. This plait can be converted into 16-17 pounds of straw hats or bonnets which wholesale would be worth £23 - £45.....in Hitchin and neighbourhood there are about 1,700 women and children who are straw plaiters. The majority of the women bring their plait every Tuesday to Hitchin market. Two long rows are formed on the south side of Market-square and down the centre walk the buyers.....As soon as a bargain is concluded, the woman gets a ticket.....about eleven o'clock, she goes to the public house where the buyer "puts up" and there receives her money. many of theses women walk three to five miles into Hitchin and wait from nine o'clock until twelve before they get their money to enable them to do their marketing.......To procure the necessities of life, they barter their plait away to small shop-keepers, taking the value of their plait out in groceries, save for a few pence which they are bound to have to procure a fresh supply of straws.....In the Hitchin district the money paid for plait in the season (from October to May) is about £600 weekly....The broad twist plait is principally made in the Hitchin parish. (Nov 1874)
News reports re: straw plaiting from the Hertfordshire Express
Reminiscing at a family gathering in 2003, someone said that my grandmother was a straw plaiter. A lady asked, 'What was "the Plait"?'. Had she lived in northern Hertfordshire 150 years ago, she would never have asked the question - indeed, it is likely that she would have been a plaiter.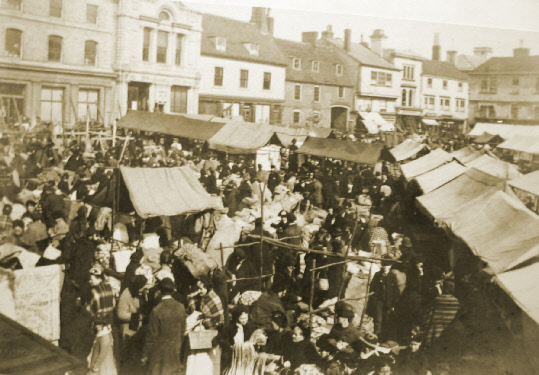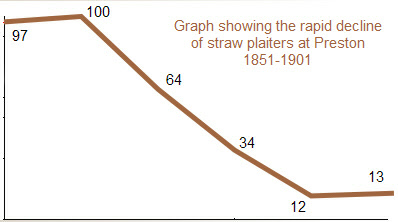 According to the census of 1851, there were 97 straw plaiters in Preston ranging in age from a boy and a girl of three to my widowed great x2 grandmother, Jane Fairey who was 73. Ten years later, in 1901 there were only thirteen plaiters. What was straw plaiting? Why did it flourish and then decline?
Many parents wanted the children to plait because this contributed to the family's income. They could earn up to 6d (2p) a day when the father was earning about 10 shillings a week (50p). If parents felt that children were spending too long at their studies, they might be withdrawn from school.
To offset the accusation of the exploitation of child labour, it has to be said that 'the Plait' meant that widows and physically incapacitated people could support themselves through plaiting rather than throwing themselves upon parish relief. In Preston the censuses of 1851 and 1861 record only two people as receiving relief.
But the main benefit was that family could have a higher standard of living than in other rural parts because of women and children's earnings as plaiters. Their farm labouring men folk might bring home 10 shillings a week. while the rest of the family could earn another five shillings which was a substantial increase.
STRAW PLAIT MAKING IN HERTFORDSHIRE AND BEDFORDSHIRE - A SWEATED INDUSTRY. March 3, 1894.
(Taken from a report by Red Van 2 in Hertfordshire issued by English Land Restoration League) The women of Hertfordshire and Bedfordshire are largely engaged in another sorely sweated industry – the making of straw plait. The work is paid for by the score yards at from 1 1/2d or 2d (for four straw rustic) to 5d; or for the most difficult kinds such as 16-straw brilliant, 6d or 7d per score. In some cases the straw seems to be found by the dealer, generally the worker has to pay for it. Thus, when the van visited Great Offley women there were making 11-straw plait in two colours at 5d a score from which about 2d must be deducted for the straw.
A woman whom the lecturer interviewed at Hemel Hempstead was making "7-straw split". She had to provide herself with a "mill" costing half-a-crown and a machine for splitting the straws (4d). A bundle of white straws cost 5d and one of blue straws cost 3d which must be bought from the dealer to whom the plait is sold. The straw will work up, if good, into about five score of plait. If the plait is exceptionally good the price paid is 4d per score, but the price is liable to arbitrary reduction if the dealer is not satisfied. The five score would therefore not bring more than 1/8d from which 8d must be deducted from the cost of the straw.
!If I commence about nine in the morning", said the woman, "and leave off at nine at night, doing some housework between-whiles, I can do 25 yards which will bring me in "clear" about 3d. It is poor enough pay but as I have the children to look after, I can do nothing else."
Where this sort of work is largely done, the homes of the labourers are grievously neglected and intemperance is said to be prevalent. There is no doubt that the dealers form a ring in whose hands the poor workers are absolutely helpless. When the Red Van visited Tring Plait Market on September 8th, the dealers taking advantage of the fact that the barley harvest was nearly over, and that many men whose wives were plaiters were out of work, were reducing the already starvation prices by a halfpenny or more per score yards. The hat-making appears to be but little better. The women who make men's "boaters" are paid by the score at 2 1/2d or 3d. As a "boater" will take about three-quarters of a score of plait, the net price for making after payment for thread is about 1 1/2d per hat.
THE PLAIT MARKET, HITCHIN
The heavy downpour of cold rain on Tuesday morning again brought before the townspeople the hardship undergone by the poor women who sell their plait in the market. Many of them have to walk three or four miles to come to Hitchin and when they get here, they must stand in the open street in all weathers for perhaps an hour disposing of their wares. The price they are paid is so small that they have little to spend in refreshing themselves before starting on their way home. Surely it would not be hard to provide, at small expense, a covered mart, comfortably heated, in which they could remain while selling their plait. How many of them escape serious injury to their health under the present arrangement is wonderful and that so few of their numbers are struck down by the severity of the weather speaks well of their powers of endurance. (21 March 1891)