A History of Preston
in Hertfordshire
Turning to another branch of my family tree, there is strong circumstantial evidence that my ancestors, the Currells, lived in the Preston area from at least 1781.
When my great x2 grandfather Joseph (aka) James Currell was asked his place of birth by the census enumerators of 1851 and 1861, he (helpfully to his researcher) replied, 'Preston' on both occasions.
He was less helpful, however, about when he was born (either 1795c or 1792c). We are helped by his parents' (Robert and Martha Currell) tardiness in having their children baptised because when they finally got around to having three children baptised together, there was an additional helpful comment in the parish record that Joseph was aged 8 on 10 July 1808. So, he was born betrween 1799 -1800 in Preston.
Sources: Herts Militia List for Hitchin; Hitchin and Kings Walden parish records; Hitchin Poor Law records ; Censuses 1841-1901; Herts Burial Index.Temple Dinsley Manorial Rolls - by kind permission of Hertfordshire Archives and Local Studies (Ref - 49022-24)
My family - the Wards, Currells, Faireys and Wrays - lived in Preston for more than 250 years
from at least 1751 until now.
More information about the Ward family in Preston was discovered in an article about the Red Lion by local Preston historian, Nina Freebody. She described how the public house had been two cottages at one time and wrote, 'By 1811 the property had been divided into three cottages which were occupied by Thomas Cain, William Hawkins and Henry Ward'. She added, 'the family of the latter having lived in the smaller cottage for many years'.
What had she discovered about the Wards? The only possible record which might give this information was the manorial roll of Temple Dinsley.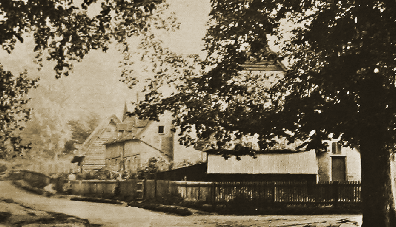 It was the 'valuable genealogical source' of the Militia Ballot Lists (1757-1785c) for Hertfordshire - 'unusually comprehensive' for the county - which provided the first concrete information of my Preston roots. These lists are parish returns of men aged 18-50 (from 1762, aged 18-45) who were eligible to serve in the county militia. In effect, they are a census of the younger male population. (Link: Militia Lists)
In these lists, my great x4 grandfather, William Ward, (a labourer) was recorded as living in Preston from 1773 to 1781. There are no less than seven male Wards (a relatively unusual name here) living in the village from the 1750s -1780s. They probably descended from two brothers.
The nearest cottage was the home of the Wards
When I consulted this, I discovered that there was a note dated 21 October 1793 that the cottage was 'formerly occupied by Jeremiah Gazely and afterwards Joseph Ward and now William Ward.'' However, later in-depth research revealed that the Wards did not live in this cottage, but rather the neighbouring cottage on School Lane. Link: Ward correction.
So, when had the Wards moved to this cottage at Preston? It was another Hitchin parish record which gave the answer - an annual listing of contributors to Poor Law funds. As the property had about an acre of land at the rear, its tenants were liable for this tax. My great x5 grandfather, Joseph Ward, first appears on this list in 1751. Thus, my family certainly lived in Preston from this time.
It is possible that Joseph Ward was living in Preston from as early as 1729. When he married on 3 October 1729 at St Marys Church, Hitchin the parish record states that both he and his wife were 'of this parish' - which included Preston. Their first daughter was born in Hitchin parish in 1730.
Robert and Martha were still living in Preston in 1821. They are recorded there in a semi-official census in that year - at Hill End. Their nine children were born in Preston.
A case can be made that Robert Currell was living in Preston as early as 1781. Robert Currell (who was baptised on 7 July 1862) first appears in the Militia Records in 1781 (when he was 18) and his place of abode was Langley. Hill End according to the notes with the Militia List was included in the village of Langley. So, probably, Robert moved to Hill End some time before 1781 and did not budge from there until his death more than 50 years later in 1832. The Herts Burial Index records him as being dying at Hill End, aged 74.
My great x2 grandfather, Samuel Fairey was born in Kings Walden. After his marriage to Elizabeth Ward in 1840, he and his family lived in Preston - from 1851, at Back Lane.
Samuel and Elizabeth's daughter, Mary Fairey, continued to live at Back Lane after her marriage to Thomas Currell. Later, in the early 1900's she moved to a cottage at Church Road which overlooked the Green.
There is a direct descendant of the Faireys still living in Preston.
The first Wray to live in Preston was my great grandfather, Charles Wray. His family were settled in Tewin, Herts but Charles was living in Hill End when he married in 1849. He and his family then lived at Austage End which is about a mile west of Preston. His son (my grandfather Alfred Wray) moved to Back Lane, Preston after his marriage to Emily Currell in 1882. Their fourteen children were born in Preston.
From around 1910, Alfred and Emily lived in a cottage on the north side of Chequers Lane. Later, they made their home at 5 Chequers Cottages, Chequers Lane and this cottage was subsequently purchased by my aunt, 'Flossie' Sugden (nee Wray). She and her sister, Annie 'Nan' Wray, continued to live there until their deaths in 1966 and 1978 respectively.
One of my second cousins was living in Preston at Back Lane in 2003.