A History of Preston
in Hertfordshire
Charles was born in the winter of 1819-20 in the village of Tewin, Hertfordshire which lies between Hertford and Welwyn. His father, Robert was a hurdle maker and he and his wife, Jane, had nine children. Charles was the youngest of four sons. Charles was still at home in 1841 aged 21.
Tewin is not a large village, and as Charles was a hurdle maker with competition from his father and two brothers it was perhaps for this reason that he left the village and traveled seven miles west to Hill End, which is about a mile south-east of Preston.
This was Charles' home when he married Elizabeth Breed on 8 December 1849 at St Mary Church, Hitchin. She was one of 14 children born to William (a farm labourer) and Elizabeth Breed who lived in the parish of Kings Walden, Herts. When they married, Charles, who was probably illiterate, made a mark while Elizabeth was able to sign her name, although she too marked her husband's death certificate. Their marriage witnesses were William Cannon (a farm labourer) and one of Elizabeth's sisters, Catharine Breed.
Four months after their marriage, their first child, Lydia, was born at nearby Fogmore. The parish record of 13 April 1850 mentions that she was privately baptized which usually indicates a problem with the health of either the newly-born child or the mother which prevented a visit to the baptismal font. But both survived the experience (of the birth, and the baptism!). A year later, in 1851, Charles, Elizabeth and Lydia were living with Elizabeth's parents at Ley Green, Kings Walden.
More children were born - Margaret (baptized 4 Jan 1852), Henry (baptized 5 Dec 1852) and Alfred (born 16 April 1858). The births of the first two were at Breachwood Green, Kings Walden but Alfred was born in Charlton.
Charles was a journeyman carpenter/hurdlemaker who evidently hired out his services by the day. A glimpse of his character is provided by a court case when he was fined for assaulting another hurdlemaker. Hertfordshire newspapers (March 1860) carried these reports:
Charles Wray, my great grandfather, appears to have been an unremarkable man. At least he was a cut above the ubiquitous 'Ag. Lab.', being a hurdler maker/carpenter which indicates a skill or specialization. He migrated a few miles from his family home in Tewin, Hertfordshire to Hill End, near Preston, probably in search of work. Once his roots were planted at Austage End, in the parish of Kings Walden, there he remained - content to work and rear seven children.
By 1861, the family had settled at Austage End. This is a small lane flanked by two farms (Wants End and Leggatts) that winds with little purpose for about half a mile before petering out. There were just four or five homes scattered along the lane and here Charles lived for the rest of his life.

'Charles Ray (sic) of Kings Walden was charged with committing an assault on Henry Hill. It appeared both men are hurdle-makers and because some gentleman had employed Hill, defendant went to him at his work and committed the assault complained of. Fined £1 and costs.'
Charles Ray was summoned, charged by Hill with assaulting him on 12 March. From the evidence of the prosecutor (Hill) it appeared that he was making hurdles in a wood. Ray came up to him and charged him with taking the bread out of his mouth. This the prosecutor said he could not help as he had been told to do the job. Ray then went up to him and struck him with a hurdle sideways. When the prosecutor got up, Ray then pulled him by his coat and struck him a blow in the eye with his fist. (The mark was still visible) Ray also said that if he found out that the prosecutor had asked for the job, he would drop on to him and give him a good thrashing.The prisoner said that he had gone and sworn at the prosecutor for taking the job out of his hands. As he was going away, he told Hill what he would do to him if it was true. Hill retorted, and he went back and struck him in the eye with his fist.
The magistrates said that one man had as much right as another to do a job and therefore fined Ray £1 and 12s 6d costs which were paid.
Charles was probably disinterested in the education of his children - Alfred was first sent school at the age of seven.
Charles died at the relatively young age of 64 on 10 April 1884 from a stricture or narrowing of the oesophagus (the tube from the back of the mouth to the stomach). It is caused by acid being regurgitated from the stomach which produces heartburn. This affects the cells of the oesophagus and swallowing becomes painful and difficult. Smoking and alcohol consumption contribute to the condition.
In 1891, Elizabeth was living with her son, Arthur, for company at Holly Cottages, near 'The Plough' inn at Kings Walden. For several years she had supported her family as a straw plaiter. She died in March 1896 aged 77.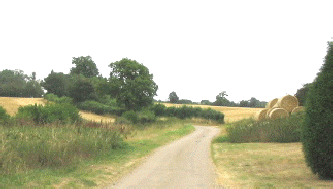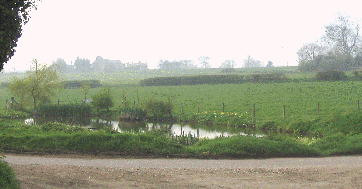 Above, the lane to Austage End Above, the view at the bottom of the lane from Austage End
More children - Arthur (1861) and Elizabeth Jane (1867) - were born here and were baptized together with Alfred on 8 March 1868. Finally, Robert Henry was born and baptized (11 October 1874) when Charles was 54 years old.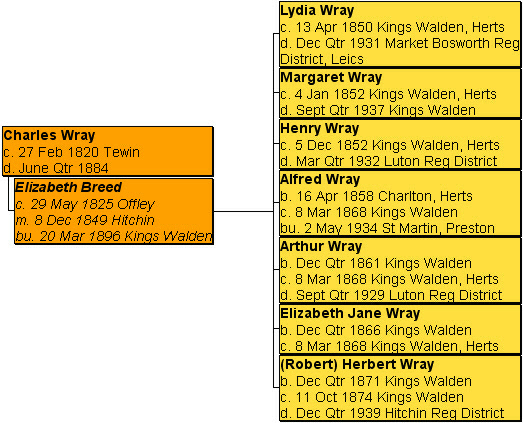 Lydia Wray was born at Frogmore and privately baptized on 13 April 1850. In 1861 she was a straw plaiter at home with her parents, but ten years later she was lodging with her aunt, Elizabeth Croft, and her husband James, at Ley Green, Kings Walden where she continued to plait straw.
In the summer of 1885, Lydia married Frank Smith (who was almost twenty years her senior) at Newbold Verdon, near Market Bosworth in Leicestershire, which is sixty miles north of Preston. Frank was a plumber/glazier.The couple had two children. In 1901, the family were living on Main Street, Newbold Verdon and in 1911, Lydia was supporting her husband as a grocer in their four-roomed house.
Lydia died in the December Quarter of 1931, aged 81. Her death was registered in the Market Bosworth District of Leicestershire.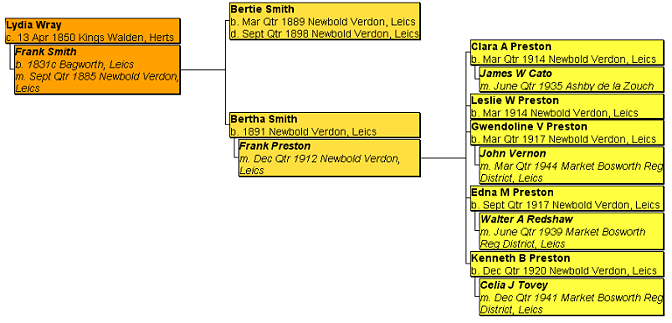 Margaret Wray was baptised at Kings Walden on 4 January 1852. She married John Smart at Kings Walden on 3 April 1880. Emma Breed was a witness. The couple settled at Ley Green, near Kings Walden and were living in a four-roomed home at New Houses in 1911. John was a carrier - specifically, a coal carrier in 1901. Margaret worked as a straw plaiter (1891) and laundress (1901).
The couple had one daughter, Florence Smart who married Albert W Ward in the Hitchin area in 1916.
Margaret died in the summer of 1937, aged 86.
Henry Wray was baptised at Kings Walden on 5 December 1852. Unlike his older sister, Margaret, Henry was poorly educated, being unable to sign the marriage register.
Henry's father taught him the craft of hurdle-making. On Christmas Day, 1874 at Kings Walden, Henry (22) married a local girl Mary Ann Mardell. She was five years older than her husband and was the daughter of a farm labourer. The couple settled at Heath, Breachwood Green, Kings Walden and had five children.
In the 1890s, Henry and his family joined the drift from the countryside to the emerging town of Luton. In 1901, they were living at 66 Lea Road - a dilapidated district. Henry was employed as an iron foundry labourer and his daughters, Ruth and Lydia, found work as straw hat finishers. Then, towards the end of 1901, Mary Ann died. She was fifty-one. 1911 saw Henry still at their five-roomed home at Lea Road with his single daughters, Ruth and Elizabeth.
Later, Henry lived with his son Ellis at 12 Tavistock Crescent, Luton. He died there, aged 79, on 14 February 1932. The cause of death was 'epithelioma' (a cancerous tumour) of the tongue. Sadly, Henry probably choked to death.
There is a seperate article featuring Henry's son, Ellis Wray, which has photos of Ellis and his brother, William. See link: Ellis Wray

Arthur Wray was born towards the end of 1861 and baptised at Kings Walden on 8 March 1868. When he first attended school somewhat late in his young life, the log book noted that he had not been to school before and was 'very backward'. In 1871, Arthur was plough boy and in 1891, he was living with his mother and working as a straw plaiter
He married Clara Keens in the Spring of 1892 at Luton, Beds. Clara was the cousin of the MP, Sir Thomas Keens (1870 - 1953). The couple settled in Luton. In 1901, they were at North Street and Arthur was working as a factory labourer. Clara was a straw hat machinist. Ten years later, in 1911, he and his family were living at the six-roomed 323 Hitchin Road, Luton. Arthur was then a gas stoker with three children and nephew Stanley Keens.
Sue Blee comments, 'I have found that Clara and Arthur must have been very kind and generous people. Two of Clara's brothers died leaving young widows with children and they appear to have taken in at least two of the children - Stanley, son of Walter and Percy the son of Roland who died of consumption in 1911. Percy lived with Clara and Arthur until he emigrated to Canada in 1925.'
Arthur died in the summer of 1929 at Luton aged 68.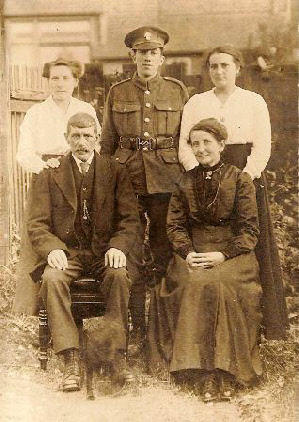 Shown right are Arthur and Lily (seated) with their three children (l to r), Kate, John and Lily.
Elizabeth Jane Wray was born towards the end of 1866 at Kings Walden and baptised there on 8 March 1868. She was a straw plaiter in 1881 and she next surfaced for her marriage at St Paul, Islington in 1895 - see below.

Elizabeth and Charles settled at Holly Cottages, Ley Green, Herts and Charles worked as a domestic gardener. They had five children. Elizabeth died at Hatfield, Herts aged 84.

Robert Herbert Wray was born towards the end of 1871 and baptised at Kings Walden on 11 October 1874. He married Annie Isabell Brant at Kings Walden on 15 February 1893.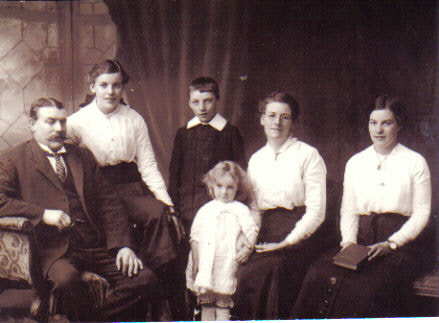 Robert learned his father's trade as a hurdlemaker when he was young, but in 1901 and 1911 he is noted as a gardener. From 1899, he and his family were living at Wandon Green, Kings Walden.
Robert died towards the end of 1939, aged 68.
(R to l) Robert, Beatrice Madge, Claude, Doris, Annie and Constance Effie circa 1917