A History of Preston
in Hertfordshire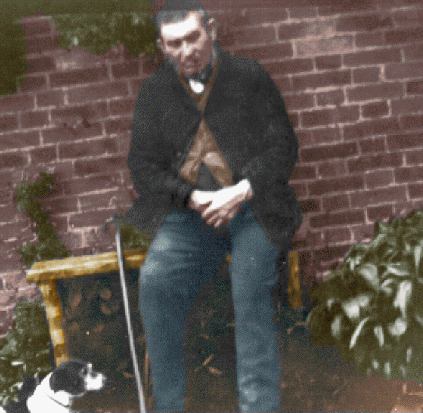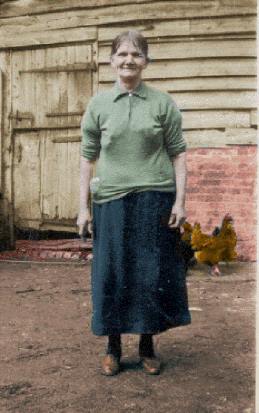 I didn't know my grandfather, Alfred Wray. I remember asking my father what he was like. Dad had drunk a couple of pints of mild but these hadn't loosened his tongue. He didn't want to talk about him, 'He wasn't a nice man', he said - end of conversation!
But I do remember my grandmother, Emily. As a young child I lived in Preston and later spent summer holidays at her home when she was alive. I have an impression of an old lady, dressed in black, sitting in a chair in the living room.
What do we know of Alfred and Emily's life and what were they like?
Alfred Wray was born on 16 April 1858 in Charlton, near Hitchin, the fourth child of Charles and Elizabeth Wray. The Wray family was living at Austage End which is less than a mile from Preston. Ten years later, Alfred's birth was registered in the parish of Kings Walden as part of a batch of births with his brother and sister, Arthur and Elizabeth.
When he was seven, he belatedly began attending Breachwood Green school. The school log book recorded his admission and noted that he was 'rather backward for his age'.
By 1871, Alfred was already working as a ploughboy - at the age of twelve! The ploughboy's day started early as the horses had to be readied for work and fed before 7.30 am. He would work until 4 pm with two short breaks and would plough about three quarters of an acre. When he got back to the farm it was time for dinner and then he unharnessed and settled the horses down for the night.
Finally, he would trudge wearily home arriving about 7.30 pm. When he went to bed, he would sleep 'pretty firm'.
From a young age, Alfred would have lived this life in all weathers. His brother, Arthur, was also a ploughboy although only nine years old.
Emily was born in Preston just before Christmas, 1863 on 22 December 1863 at Preston - the first daughter of Thomas Currell and Mary Fairey. Eight years later, in 1871, her family was living in Gosmore (which is between Preston and Hitchin). At an early age, Emily plaited straw like many of the local girls.
Not surprisingly, as they started working so soon, both Alfred and Emily were uneducated and illiterate. They both made a mark on the register instead of signing their names when they married. Neither of them noticed that Alfred's surname had been misspelt as 'Ray'.
By 1881, the Currell's had moved to Back Lane in the village of Preston. The Wray's were still living at Austage End. The next year, in March 1882, both Emily and Alfred were involved in a court case. The newspaper report of the case gives an insight into their lives. Emily was employed at 'The Bull' inn at Gosmore and was called 'my little girl' by the wife of the inn-keeper - she was a slight figure even later in life. Alfred (who was described as a 'hurdle-maker') was having his lunch and beer at eleven o'clock at 'The Bull' - clearly there was a relationship forming. (For a transcript of the court case which was reported at length, use this link: Alfred and Emily's court case )
Nineteen months after the court case, Alfred and Emily married at St Mary's Church, Hitchin on 11 November 1882. Their witnesses were George Andrews (Emily's first cousin) and Adelaide Burton - who were later to marry and live at Preston Green.
The first of Alfred and Emily's fourteen children, Arthur, was born a few months later in 1883. The children were all healthy - 'all born and lived well'. In 1891, Alfred and Emily and five children lived in a two-roomed house at Back Lane, next door to Emily's mother, Mary. Their home was immediately to the north of the footpath which still leads to The Green. They had moved to Poynders Green briefly in 1897 but by 1898 they had returned to Back Lane and were paying 4/5d (22p) rent a week to their landlord, Mr. G.I.E. Pryor.
Three years later, in 1901, the family had moved to the north side of Chequers Lane. Sometime after 1910 they had crossed the road and were living at 5 The Cottages, Chequers Lane, which had been newly built by Mr. Vickers who now owned the estate at Temple Dinsley. Emily Currell (aka Fairey)
Marriage, homes and children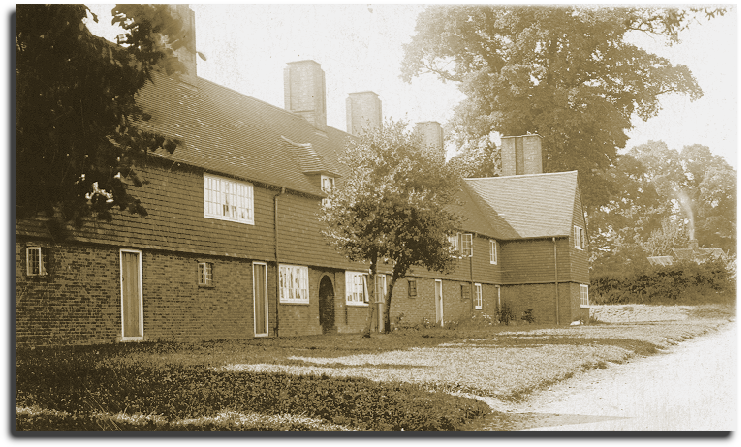 5 Chequers Cottages, Chequers Lane, Preston circa 1920
The last of the children, Maggie, was born in August, 1908. Their new (and final) home had the luxury of three bedrooms, a kitchen and a long garden which provided the family's vegetables and where the chickens were kept.
At the rear of the house was a large barn with a high ceiling. It had an earthy, pungent smell. Attached to the barn was a water pump which was fed by two underground tanks that collected rainwater. Alfred and Emily kept chickens and bantams in the garden and a pig on land opposite their home. The family's diet was supplemented by the rabbits and pheasants which were poached by the boys.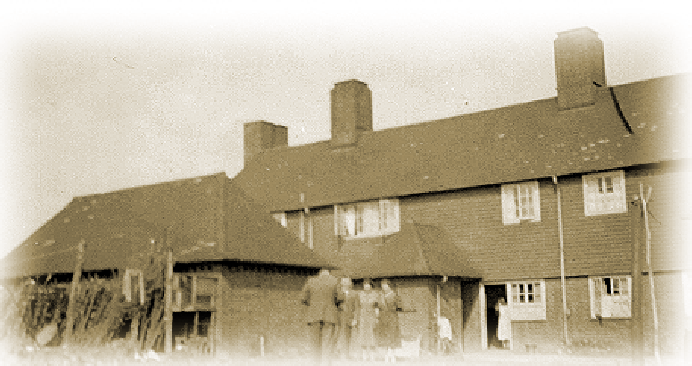 Rear of 5 Chequers Cottages circa 1930
The Wray's and education
Emily's attitude towards her children's education seems to have varied according to the circumstances and needs of the family.
For example, her eleven-year-old daughter, Carrie, was 'kept at home to plait' and left school early (aged 12) to 'help her mother'. Similarly, another daughter, Alice, when eleven, was 'frequently kept at home to mind babies and was backward in consequence' - at the time there were three children aged three and under in the household. The children were dispatched to school as soon as possible - it was a supervised haven and gave Emily time and space for her work at home.
Of the boys, Ernest Wray left school aged twelve to go to work. But his writing was far better than my father's scrawl. Dad's spelling was poor - he struggled to write out his betting slips and trying to figure out his winnings was a painful (if sometimes rewarding) struggle. Yet, Jack Wray received a watch for five years perfect attendance.
In February, 1891 all the Ray (sic) children were sent home for their 'school pence' as six weeks 'pence' was owed – a sign of either their parents' poverty or indifference to education.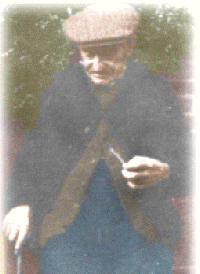 Alfred Wray's occupation
For some years Alfred followed in his family's tradition and worked as a hurdle-maker - "'e laid 'edges lovely". He was self-employed and travelled from farm-to-farm.
However, while working in the woods of the Temple Dinsley estate, Alfred lost a leg. He had been felling trees using a block and tackle when a pulley wound around his leg.
As a result of this horrific accident, the family was allowed to live rent-free in their cottage by Mr. Vickers - which helped to 'make ends meet'.
Right, Alfred Wray circa 1930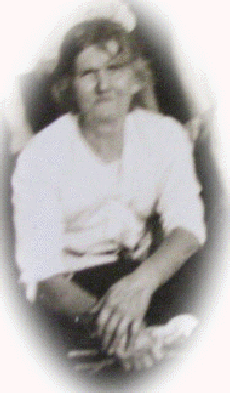 Emily Wray – wife and mother
Like many of the women in the village, Emily worked in service at Temple Dinsley. This environment influenced the way in which she organized her own household. She 'was very strict' and 'a stickler for doing things properly'. Before every meal the children had to wash at the well.
My father had fond memories of 'mother' looking after him by bringing simple meals in a basin when he worked in the fields. She is remembered for her meat puddings and pies.
Life was hard for Emily,with so may children for whom to care. She would regularly walk the three miles to Hitchin on Tuesdays and Saturdays for the family's shopping. The last haul up Preston Hill burdened down with groceries must have been exhausting!
She also walked to Hitchin for the straw which she plaited and to sell the finished plait In the summertime she might be found in the fields, often with her children, as she picked stones and gleaned corn. She occasionally carried a bundle of straw home balanced on her head.
Emily had 'some queer ways'. She was superstitious and insisted that knives and forks were uncrossed when laid on the table. Her children were told 'not to go up Green Lane as there were witches there'. The playing of tennis by the children was forbidden during the times of church services and on Sundays there was no knitting or sewing of buttons as it was the Sabbath.
Later in life, Emily 'broke her hip and never had it fixed'. My father made her a crutch from an upended broom which he padded for comfort. She was known affectionately as 'granny with the broom'.
Alfred was not a tall man, but thickset. Of all his sons, it is said that Jack and Sam most closely resembled him. Although he 'wasn't a big drinker' he did smoke.
According to most accounts Alfred was 'not a nice man'. 'He was an old b****r who was not nice to granny'.
Alfred was often bad-tempered and would threaten his children with his stick. 'Do you want this across your shoulders?'. 'I'll fetch you one!' His daughter, Maggie, had to clean the hearth before he got up - or else. ('But he'll have to ketch me first!') When one of his grandsons misbehaved, Maggie sometimes thought, 'there's a bit of Alfred in you'.
Alfred died on 28 April 1934 aged sixty-six. The causes of his death were senile decay, syncope and gangrene of the foot due to diabetes. It is believed that some dye from a sock infected his foot when he was tending a windmill at the bottom of the garden. The informant of his death was his son, Frank, who was living across the road at 9 Council Cottages. Four days later, Alfred was buried at St Martins Church, Preston.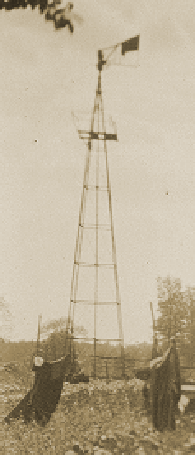 The windmill at the bottom of the gardens of Chequers Cottages.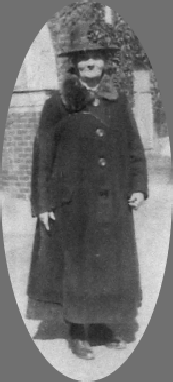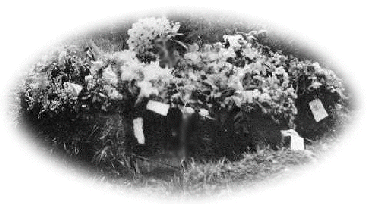 Emily now was living with her children, Flossie, Nan and Sam for company. In later years she wore a black dress, sometimes with a black and white apron and sat in a rocking chair in the corner of the room. Her hair was 'scrunched back in a bun'. She would say 'if you can see a cobweb you can get up there and lick it down'.
On 10 March 1951, Emily died. She was eighty seven years old.
I remember when Dad received the telegram telling of his mother's death. It was early in the morning before he left for work. He was drinking tea from a saucer. It was the first time I saw him cry.
She had suffered with diabetes ('the sugar') and she died from heart failure and atherosclerosis which is a thickening of the arteries caused by cholesterol plaque.
Emily and her remaining family
Emily was buried five days later at St Martins Church, Preston. Her unmarked grave (left) is near the door of the church.
Emily certainly had a hard life bringing up so many children and with a husband who could be difficult at times. From her photographs she looks worn but has a ready smile. She regularly enjoyed 'her half of stout at "The Chequers"'. A granddaughter remembers her fondly as a 'real granny…kindly, giving and a good listener'.
Alf and Em were typical of many rural Hertfordshire families of the time. He toiled hard on the land from his youth and she supplemented his meagre wage - mainly by "the plait" - and cared for her household. Their story truly is 'an everyday story of country folk'.
Link to Wray family tree.
Sources: Preston school log book (Ref:DP 53/25/33) and Breachwood Green school log book (Ref: HEd 1/118?2) - by kind permission of Hertfordshire Archives and Local Studies (Ref - DP 53/25/33 and ****); Hertfordshire Mercury - by kind permission of Hertfordshire Mercury. Censuses 1871-1901;The memories and photographs of Hazel L'Abraham, Maggie Whitby and Phyllis Varrall, Jennifer Windebank and Chris Newell.