A History of Preston
in Hertfordshire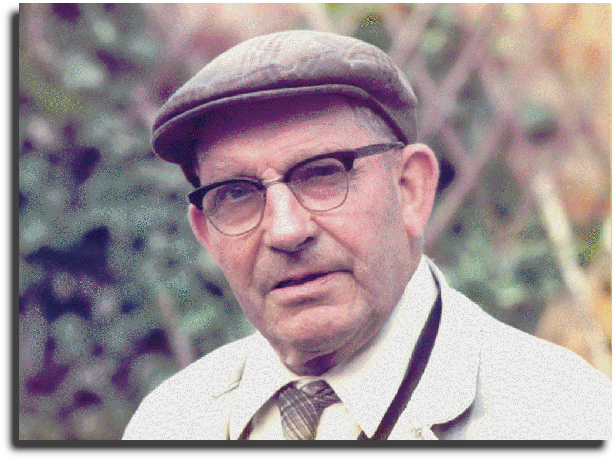 Sam (certainly not Samuel) was the thirteenth child of Alfred and Emily Wray. He was born at Chequers Lane, Preston, Hertfordshire on 30 July 1905. Later, when his retirement was looming, this was to be a surprise to him. He sent for a short copy of his birth certificate which indicated he had toiled a year longer than necessary! He thought he had been born in 1906.
He was brought up in the small village of Preston. He was to live here, in the same home, for almost forty years and even when he left, he returned each year for his annual holiday which shows his attachment to the village.
Sam attended the village school from the age of three. But he was just not interested in education. His writing was poor (see right) and his spelling ability was challenged by words of more than four letters. In later years, he struggled each week to complete the work sheets of the gang of workers he controlled and it was painful to see him write out betting slips.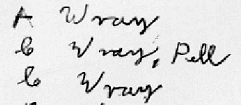 Yet I am convinced he had an agile mind. When enjoying card games he could remember the sequence of cards that had been played and he never faltered when calculating the finish needed for a darts victory.
He left school as soon as possible, three months short of his fourteenth birthday by special dispensation - probably to help with the hay-making. The school log book states: '25 July 1918. Sam Wray has been granted three months leave of absence from school from July 24.'
Sam was 'taken under the wing' of Ralston De Vins Pryor - quaintly known by the villagers as 'RDV' to distinguish him from his brother 'GIE'. My mother said that Sam was helped by a local squire who taught him the rudiments of cards and snooker. To my surprise, in 2005, I discovered confirmation of this relationship in my shed! I have an old woodworm-riddled fork that was used by Sam which has 'RdeVP' etched into its handle.
The Pryors owned the Temple Dinsley Estate at Preston before moving to a house called, 'The Laburnums' (now Prior House) which was near 'The Red Lion' public house. RDV was a Preston school manager with an interest in growing sweet peas. The two Pryor brothers were also the driving force behind the village cricket team after World War I.
Of Sam's family and poaching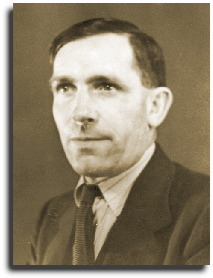 Above, Sam in 1942
Left, Sam is unmistakable in his cap and familiar slouch. *********is driving the tractor
Sam's relationship with his parents is clear. He was close to his mother, who doted on him as her youngest son and it suited him to stay at home and enjoy her ministrations. But he heartily disliked his father. 'Not a nice man', was his stark, bitter comment. One can feel a lightening of the atmosphere at Chequers Cottages when Alfred died in 1934.
Sam was also very close to and protective of his younger sister, Maggie. They were partners playing darts and tended the local tennis court together. He got on well with Maggie's husband, Ron Whitby. They shared an interest in cricket and poached together. Ron would check whether the local gamekeeper, Frank Harper, was in 'The Red Lion' and, if so, the two would poach rabbits and sell their haul in 'The Bull' at Gosmore. Ron was to be Sam's best man.
Sam would often recount stories of his poaching when he would outwit the police constable and the gamekeepers. He told of one occasion when he was hunting with two ferrets which were put down different rabbit-holes. The two groups of fleeing rabbits met head-on in the burrow and Sam lost his ferrets.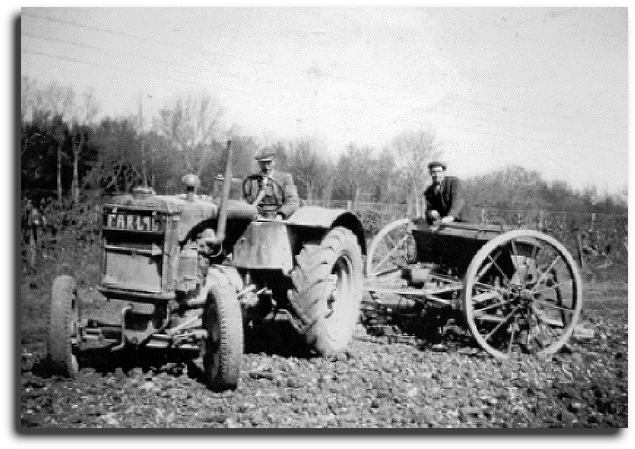 Marriage to Grace and married life in Preston
Sam's formulative years can be simply summed up - he worked for local farmers like Mr Maybrick at Preston Hill Farm and he developed a thirst for beer and a talent for cricket, football and darts. The photograph above shows him in his cap and familiar slouch. The tractor driver is Reg Darton.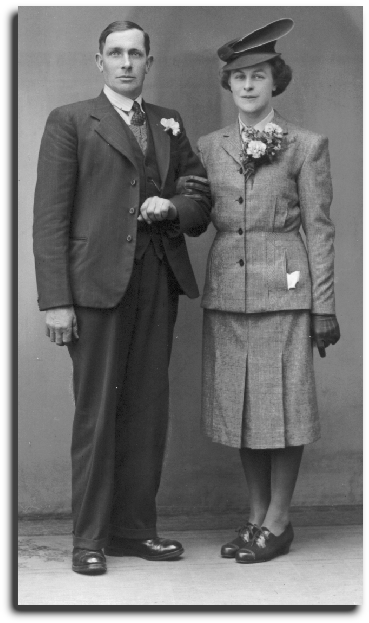 Sam and Grace's wedding in 1945
World War II cast it's shadow over mankind, but in Preston it was business as usual. To augment the war effort, Grace Mills joined the Land Army and found herself working on a farm at Preston. Sam and Grace married on 17 March 1945 at St Marks Church, North End, Portsmouth.
They made their home in, what is today, a beautiful country cottage with a manicured garden. In 1945, it was a very basic home with few amenities. Family members told Sam that he 'couldn't expect a lady like Grace to live in a place like that' – indeed one of the first comments made by those who knew the couple when they married is how different were their backgrounds. A means of escape from life in Preston was provided when Grace was expecting her first child. She decamped to her parents' home at Portsmouth where she was to stay for eighteen months after my birth.
Sam continued in his usual routine in the village - working and playing darts and cricket.
Sam and Grace's first home - 'Reeves Cottage', Preston (in 1977)
Eventually, Grace returned to Preston and almost immediately became pregnant again. This time her escape was permanent. Grace's mother had died. Her father needed support. There was room at her father's house for Sam and Grace's young family. So, after forty-four years in a small rural community, Sam was pitched into life in a big city. His brother-in-law recalls an 'almighty row' on the day of the move.
Sam seems to have landed on his feet. He found a labouring job with the Portsmouth Gas Board and rose to the dizzy heights of being a 'ganger' - which simply meant that he was in charge of a small group of men who caused traffic chaos by digging up roads and tinkering with the gas mains. One day, his family got home to find a blood-soaked boot in the kitchen and no father. He had dropped a pipe on his foot and broken it. At least this meant plenty of bowls practice with a specially adapted shoe.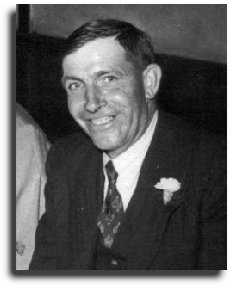 Sam easily slipped into life in Portsmouth because of his dart playing - an 'open sesame' to the working class community. Every night he would be at 'The Twyford Arms'. He also discovered the joys of wrestling and greyhound racing - which only seems to function as a focus for gambling.
He had a simple daily routine. He got up at around seven o'clock in the morning and had a hurried breakfast when he drank hot tea from a saucer. Sam was collected by a lorry to go to work and brought home just after five when he had his meal and a 'snooze' to recharge his batteries. I might get some attention for a short time before he shaved and left for the pub at about eight o'clock. He would return after closing time, have a small supper and then to bed. Sundays had their own timetable which involved a fried breakfast, a lazy morning, going to the pub at lunchtime, 'sleeping it off' in the afternoon and back to the pub in the evening.
Summer holidays at Preston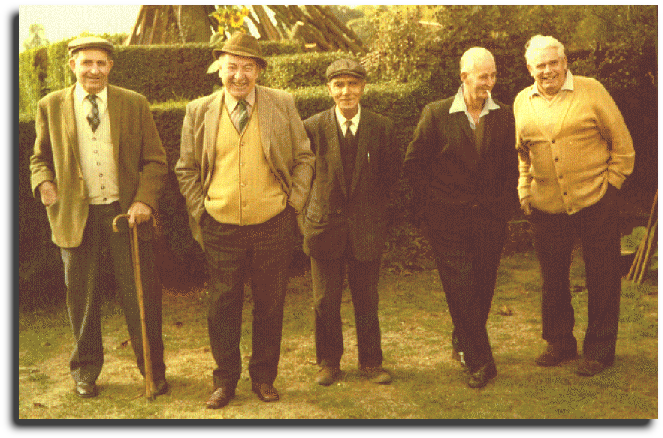 Sam during a holiday at Preston with (l to r): Mr Stanley, Percy Sharp,
Dickie Jenkins and Sam's brother, Jack Wray.
Sam took his annual fortnight holiday at the end of August when he returned to Preston, sometimes with his children. There he would enjoy digging up and storing the household's vegetables. He would watch the harvest being taken in and shoot fleeing rabbits. The evenings would be spent in 'The Red Lion' or perhaps his nephew's husband, Freddie Angel, and Cyril Varral would drive over from Luton and take him to another pub. At the weekend there was always cricket and the opportunity to reminisce with old friends. He would also visit some of his relations like his sister, Maggie, his brother, Dick and Phyll and Herbie Jenkins at Castle Farm. Sometimes his holiday would coincide with visits by his brother, Jack.
Then, it was home with his spoils. A few freshly killed rabbits in a sack. I can still recall their smell when I excitedly woke the morning after Dad's return and opened the pantry door to see the sack on the floor. Mum would be expected to prepare and cook them - which she must have hated. I find it astonishing that Sam travelled by two trains, with a taxi jump across London, carrying dead rabbits.
These holidays ended in 1978, when his sister, Nan, died and the cottage was sold - the end of an era for Sam.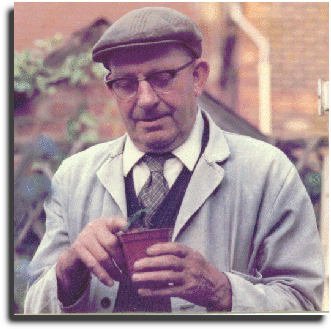 Then, came retirement and Sam became 'a potterer'. His local pub, 'The Pelham Arms', was refurbished, and he built a greenhouse from rescued wood and glass. He ran electricity to his palace and there he spent much of his day pottering and smoking. He did some paid gardening work for widows in the neighbourhood and then in the afternoons there was horse racing on television and in the evenings there was the pub.
Money wasn't a problem. He had a small injury pension after an accident at work that affected the tendons in his right hand. Sam had few, simple pleasures and there always seemed to be enough for his beer, his cigarettes (hand rolled St Julian Empire tobacco in blue Rizla cigarette paper) and his bets which were usually of the five pence double and cross accumulator variety. How the bookies must have valued his custom!
Bar billiards and snooker
When bar billiards became the rage, Sam was in his element and when billiards was superseded by pool, he was in nine-ball heaven - a chance to show off his talents in public and to savour a pint at the same time. He delighted in playing flash, young dudes. He would shuffle around the table, very slowly, until they became extremely frustrated and then came the canny positional plays and the game was in the bag.
The local paper ran an article with the caption, 'They call me the Paul Newman of the Pool Table'. The irony being that I'm sure Sam didn't have a clue as to who was Paul Newman!
Sam was popular with the outside world. He would be the life and soul of the bar, showing his public face. To walk down the street with him was to be constantly stopped for a chat. He seemed to know everybody. Even when we sold the family house the estate agent remembered Sam and how he and his friends tried to trick him when they were young - but Sam was equal to the challenge.
Sam liked something for nothing which is probably why gambling was so appealing. Being a natural niggard controlled the amounts he bet. When he was walking, he constantly scoured the ground for lost coins and when he found one - what joy!
He enjoyed more than his fair slice of good fortune. Time and again he would gleefully bring home a prize won in a raffle. When he played cards, invariably the right card for him would be dealt. He found his best darts at the critical time. When playing pool, the ball would run on just that extra inch to improve his position. It was maddening and uncanny for ordinary mortals. There comes a point when skill replaces good fortune.
His inflexible attitude to clothes marked him as a country man. He invariably wore a cap and cardigan. He favoured black boots of a particular type and tweed jackets. The only changes to his wardrobe were to replace items with new, identical garments
Sam's rural heritage was also shown by his taste in food. He loved brawn, chitterlings, pig's trotters, salt beef and chicken's giblets. He also had an uncanny knack of keeping dry from the rain. As he walked, he would deliberately seek the lee of walls and used trees for cover. He also had a strange habit of filing his nails using the bricks of a wall – which I associated with his countryside background.
Beer flowed through Sam's life - in the farmer's fields and his local pubs. On special occasions, like birthdays, he liked 'shorts' such as rum and blackcurrant. Yet, despite his love of alcohol, I never saw him obviously the worst for drink or hung over. His normal evening's consumption would be three or four pints. He drank mild with a lemonade 'top' in later years.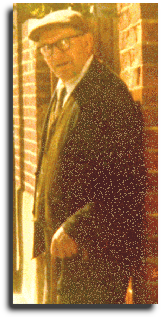 He had a healthy constitution no doubt reinforced fresh air and exercise. He had a bad bout of pneumonia in the early fifties. He walked with a limp following a kick on the ankle while playing football. He often suffered with painful cramp when in bed. In the seventies, after years of discomfort, both hips were successfully replaced. He used two sticks after his operations. Later in life, he was diagnosed as having an under-active thyroid gland. One of the effects of this can be a feeling of lethargy and fatigue.
In December 1994, Sam had a small stroke. Then, on the fourteenth, at around nine o'clock in the morning, mum took him a cup of tea in bed. He pulled up his bedclothes, gave a little sigh and that was that.
Sam's greatest sporting love was cricket. He never spoke about his dart - playing but often described his bowling exploits. This was usually after getting back from the pub and while eating the countryman's savoury snack that Mum had left him before escaping to bed. He also believed in, 'repetition for emphasis'!
He followed in the footsteps of his cricketing brothers, Frank and Bob, and apart from a brief flirt with the Kings Walden team in 1929 he played for Preston from 1921 (aged 16) until he left the village in the late 1940s.
Sam was included in the 'Preston All-Time Best XI' - an accolade indeed! He was (strangely) a left-handed batsman and a right-handed, slow, (again, strangely!) opening bowler.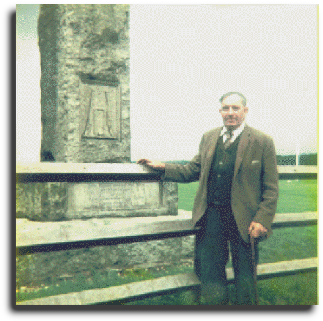 Left, Sam at the cradle of cricket at Hambledon, Hants
He regularly took a huge haul of wickets – 1930: 6 wickets for 26 runs, 1931: 6 for 18 and 5 for 7, 1948: 4 for 16 and 5 for 28. In 1924, a newspaper reported that 'the Wray brothers (Frank and Sam) were as usual on the wicket' after taking four wickets apiece for less than ten runs. In the 1926 season, 'the Wray brothers destroyed side after side' and in the mid-twenties Sam was described as, 'a brilliant youngster'.
Maybe the Preston pitch was a contributing factor towards Sam's performances. It was a reclaimed meadow and was 'a plantain patterned table' - which implies that the playing surface was affected by large-leaved weeds for several seasons! In 1928, it was said that the Preston wicket must have improved because the scores became higher.
Perhaps Sam was motivated by a desire to 'get one over' on the opposing batsmen. He often delighted in telling us how one luckless cricketer made his exit to the pavilion muttering, 'You cunning little bugger!'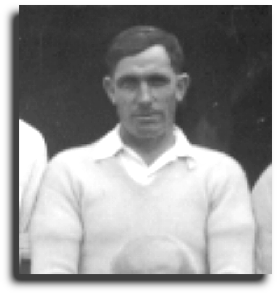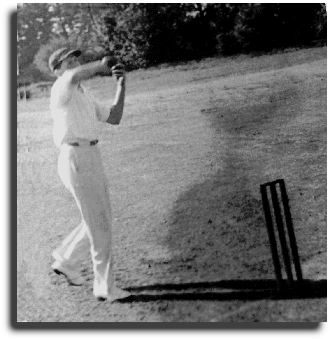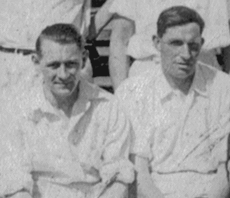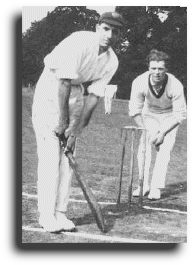 Sam bowling and batting.
Top right, with Ron Whitby in 1947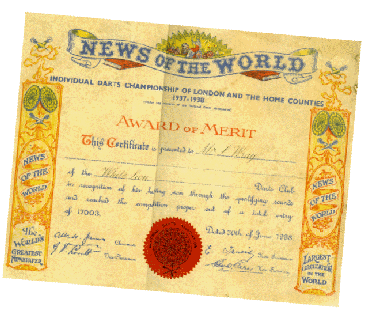 Sam was a renowned darts player. As a young man he honed his skill by the light of a paraffin lamp at 'The Red Lion' in Preston.
He was playing at 'The White Lion' in Bancroft, Hitchin when, in 1938, he won a section of the 'News of the World' darts competition with more than seventeen thousand entrants. The landlord of 'The White Lion" was Charlie Phillips. Later, Charlie was interviewed by a reporter and said that his special interest was darts and that he had been the Chairman of the Hitchin Darts League for twenty-eight years.
Sam seems to have gravitated to the pubs that had "crack" darts players. When he moved to Portsmouth, he played for "The Wingfield Arms" team in Lake Road which won their league year after year.
Sam's throwing style was laid back and relaxed. He didn't strain forward at the ochre to be as close to the board as possible. Rather, he shifted his weight onto his back foot, looked at the board with narrowed eyes, cocked his head to one side and lobbed the darts so that they were almost parallel to the board.
He preferred to throw at the bottom of the board when he was older - at the treble nineteen and the double fifteen. He was painstaking in his approach to darts. He would only sup his "mild" from a tankard with a handle because "straight" glasses might be tacky from spilt beer and this could make his fingers sticky which might affect his throw.
Sam had excellent hand-to-eye co-ordination. He also revelled in performing on a big stage when he was supremely confident in his ability not only to throw accurate darts but also to do the quick arithmetic needed to calculate his finishes without interrupting his play. I saw a cunning in his approach to darts and he was at his best when money was on the table for the winner. I recall him throwing darts at a Gas Board fete where the prize was a box of chocolates when a certain score was achieved with three darts. The harassed store-holder had to ask him to move on as his stock of chocolates rapidly diminished. As I said, Sam could throw anything with a point! At the age of 60 he was darts champion of Portsmouth - see right.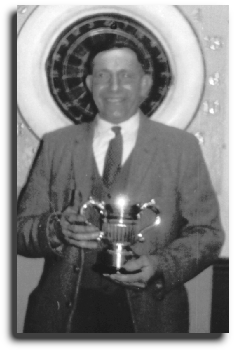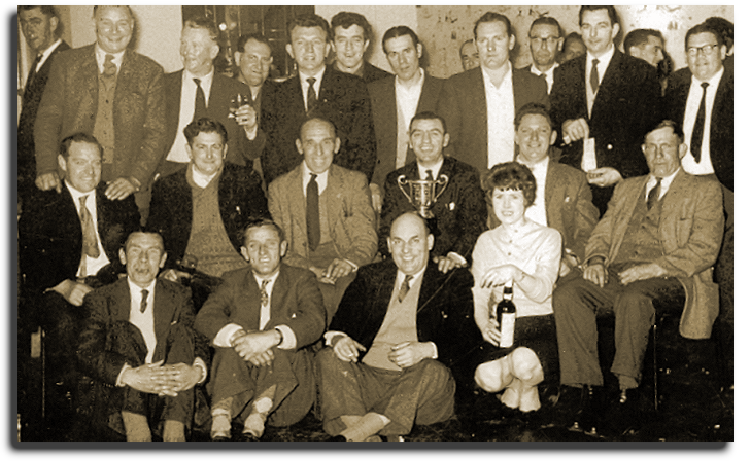 The Wingfield Arms, Lake Road, Portsmouth darts team. Sam is seated far right.